Our offices are centrally located in Cleveland, Akron and Youngstown where we provide expert legal advice to clients throughout Ohio.

Akron & Youngstown 330 564 1120, Cleveland 216 696-0808, or toll free 844 666-9743

Contact us today to discuss your legal needs.
Greek mythology suggests that the Goddess of Justice, her eyes covered, the scales of justice in one hand and a sword in the other, presided over the apportionment of things among mortals, offered protection to individuals and maintained the social and political order.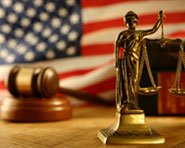 Today this image of the paragon of justice serves as a veritable icon for the law firm of Wilkerson & Associates, reassuring all who retain our firm with the promise of expert legal representation. This is our unconventional promise - To ourselves and to our clients.

The following list of some of our current and former clients serves as an example of just how much we are anchored by this powerful commitment.


American Family Insurance
ANC Rental Corporation
ARA Services, Inc.
Argonaut Insurance Company
City of Cleveland l
Cleveland Port Authority
Crawford & Company
Cuyahoga Community College
Cuyahoga Metropolitan Housing Authority
Dominion East Ohio Gas Company
DuPont Corporation
Enterprise Rental Car
Eastman Kodak
Fifth Third Bank
First Energy Corporation
JPMorganChase
Kent State University
KeyBank National Association
Metropolitan Life Insurance Company
Mutual of Omaha Insurance Company
National City Bank
PolyOne Corporation
Restaura Inc.
Shoney's Inc.
Special Counsel to the Ohio Attorney General
St. Paul Fire & Marine Insurance Company
State of Ohio
The Cleveland Clinic Foundation
The Cleveland Municipal School District
The Clorox Company
The Department of Development for State of Ohio
The Eaton Corporation
The Federal Deposit Insurance Corporation
The Travelers Insurance Company
T-Mobile Corporation
Travelers Express Company Inc.